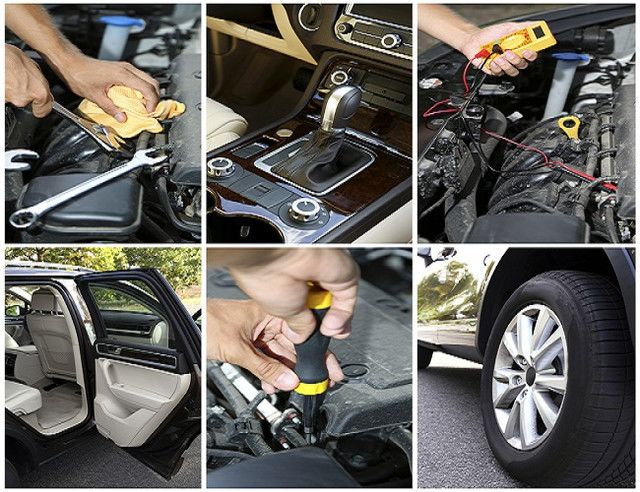 When you face a sudden breakdown in the middle of road, you are left with no other choice but to call up any nearest mechanic without giving a second thought to the fact if he would be the right one or not. Under such circumstances, it is acceptable as you were faced with an emergency situation.
But, what if you carelessly choose a wrong mechanic even when you had enough time to explore the options very well?
People often make careless mistakes when they hire a car mechanic. The first mistake they make is choosing a random mechanic without giving a second thought to it. The second mistake they commit is not heeding to warning bulbs that go off in their heads. These are the two prime mistakes that people commit, and there are so many countless ones that we are not delving into.
So, without arguing any further, let's start with how you can choose the best mechanic in your city without having to compromise with your car's safety and the quality of the service.
#1. Visit the Car Repairing Shop in Person
First, list down all the shops that are closest in your vicinity as it would be a hassle to drive with a broken car to a far-off shop. Once you have listed down the places, visit each shop in person. There you will get to know about the standards and services they provide; you can easily make out if a particular shop will be able to fulfill your expectations or not. You can ask them few questions also to dig deep and if not satisfied you can move on to the next shop. All this will help you choose the best shop by looking around how work is done, the condition in which cars are kept, the dedication of the workers and even the safety measures taken in the shop.
#2. Learn About the Skills of the Mechanic
Choosing for an affordable car mechanic, you need to first study their skill sets. Let's say mechanic A can repair tires and any issue related with the wheels while mechanic B can work on any problem with the engine. So, the choice will depend on the problem you are facing. If you need an engine repair, go with B. But, if you think that your car needs a tire replacement or you want the brakes need to be changed, you can choose mechanic A. Also verify if mechanic is certified and well trained enough to handle your car service issues or not.
#3. Do Discuss About the Service Cost Beforehand
Every service has a particular charge. In case of services provided by a car mechanic, the charges are calculated based on the intensity of the damage, the parts that have to be repaired, and other extra work that needs to be done. Try to get an estimate before giving your car for service; this will help you determine the total expense and also the hidden charges if there are any. For example, fixing a broken wind shear wouldn't cost you much as replacing one would.
#4. Check Their Portfolio
One of the major mistakes that car owners make is by ignoring the portfolio. Since car is a luxurious possession it is not advisable to compromise with its safety at all.You need to check the portfolio of a car mechanic before making the final decision. It will give you enough information about the type of cars he has dealt with, issues he has fixed, and time taken in repairing services, quality of his work, and so on.
#5. Ask for Their Insurances and Licenses
Another thing that you need to look in for a car mechanic is his insurance and license. First, he should have insurance so that any accident doesn't cause you a financial burden. Next, a license will let you know whether the mechanic is certified to deal with special types of cars or not.
Conclusion
We understand your dilemma in deciding whether a specific car mechanic will be good enough for your car or not. This is why we have presented a wonderful guide for you. We hope that now it will be much easy for you to decide while choosing an appropriate professional for the servicing and repairing of your car.